Carlton Ware                          View this article: Old Stone Mill Antique Mall


by Georgette Allen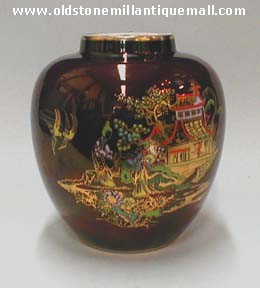 Carlton Ware has been produced in Stoke-on-Trent, England since 1890 with pieces unique in range of style including tableware, luster items, novelty or dainty items, and matteware. The original factory was closed in the early 1990's and sold to the present owner. The new owner has kept the original moulds and added some new design.
Carlton Ware has had financial ups and downs as most companies, including the death of the owner, depression in the 1960s and 1970s in Europe, and steep increases in manufacturing costs. These led to the sale of the name with the original moulds to the present owner, Francis Joseph, in 1997.
One of Carlton Ware's original colors is called Blush Ware with hand painted florals and was produced until WWI. New ideas for decoration were incorporated including transfer, and cloisonne . Carlton Ware is known for the fine quality detailed molding of leaves, berries, and flowers. It also has produced more whimsical items of nursery figures, barrage balloons, warships, nurses, a bridal pair, sailor, and airman.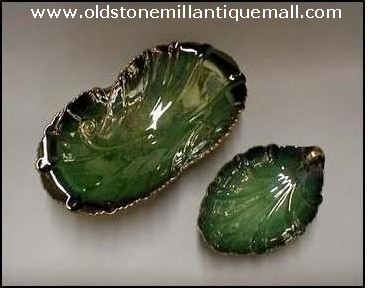 The Salad Ware line was introduced in the mid 1920s. It resembles molded lettuce leaves, red lobsters, and crabs. Oak, buttercup, wild rose, and blackberry molds were also produced for a daily ware series.
1923-1924 brought about the series of Egyptian motifs with dragons, Bird of Paradise, and abstract Art Deco designs. Nightingale and River Fish were produced later in the decade.
The Royale colors were introduced in the 1940s and were known as Rouge (a dark red), Bleu (blue), Noire (black), and Vert (green), as noted on the underside of each item with the logo. At this time, production of the Spiders Web, New Stork, and New Michado enamel decorated series was started.
During the 1970s, a new line of Walking Wear was designed. Pieces include a teapot, plates, mugs, eggcups, and other daily use items. These pieces are easy to identify because they all have legs with shoes as the base. Many are very colorful in yellow, green, and red.
Ed. Note:  Collecting Carlton Ware by David Serpell is an excellent source for more information.  Carlton Ware Photos from the Georgette Allen Collection.